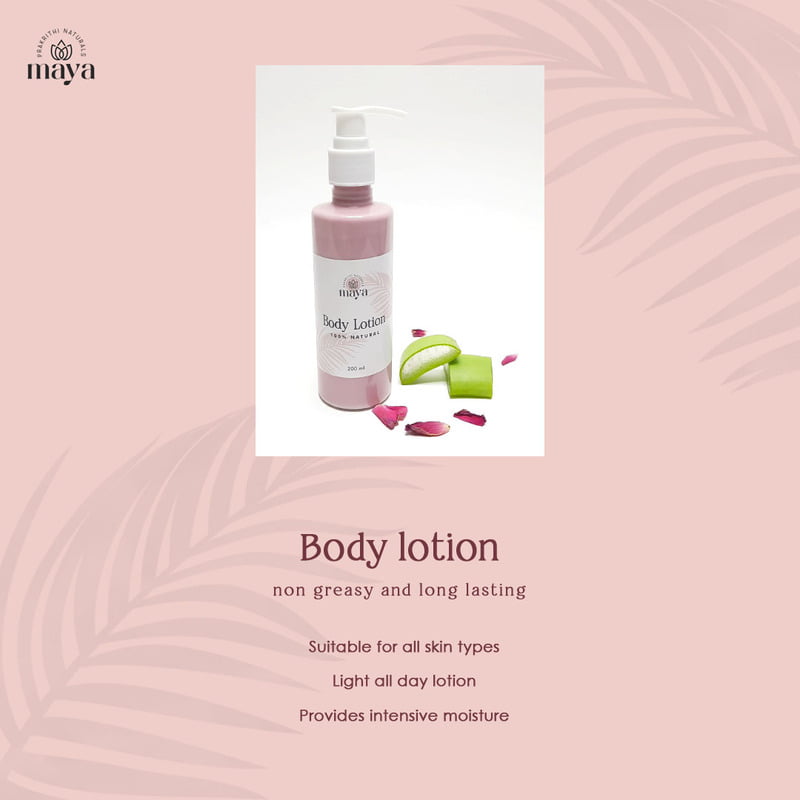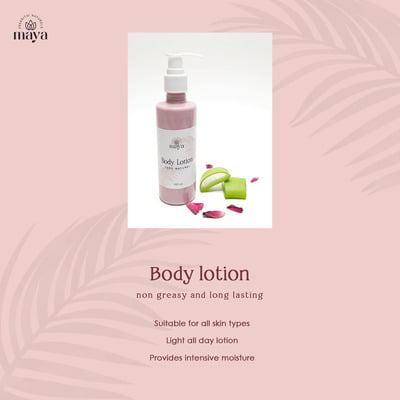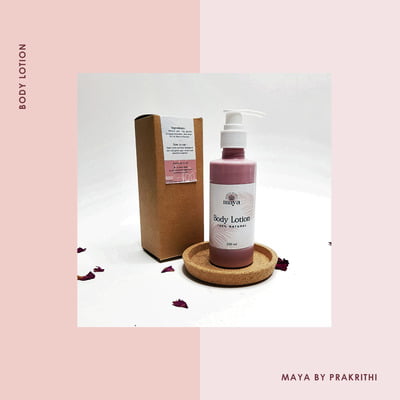 Body Lotion
Non-returnable
Aloe vera body lotion by Maya is the best skin lotion for dry skin. A non-greasy, fast absorbing, light-all day body lotion with natural aloe vera gel.
Aloe Hydration Body lotion is a skin repair lotion, hydrates your skin, decreases itching and flaking.
The key ingredient,
Aloe vera makes the lotion light
while Shea bu
tter and Vit.E, supplies your skin with long lasting intensive moisture.
Ayyappala keratailam
, one of the important ingredient in the lotion, is used as treatment for dry skin condition, in ayurveda. The
best body lotion for summers. A
loe vera body lotion is suitable for all skin types. NO ARTIFICIAL COLOURS ADDED
Note:
Suitable for children, women and men of all all ages
softens and moisturizes the skin.
Decreases itching and flaking.
works as anti inflammatory agent
Vitamin E maintains health and integrity of skin
Aloe Vera has antioxidant properties thus protecting the skin
Apply on face and Body. Massage all over with gentle upper strokes until absorbed completely.
Prices inclusive of all taxes.
softens and moisturizes the skin
decreases itching and flaking.
Ingredients:
Aloe vera juice, Veg glycerin, Ayyappala Keratailam, Shea Butter, Vit.E oil, Niacinamide, Rose e.o , Phenonip
Disclaimer:
Body Lotion by Maya does not have silicones, parabens, sulphates and harsh chemicals. All ingredients used in this product are natural and plant based. Product 100% Handmade.
Best before 6 months from the date of manufacture.