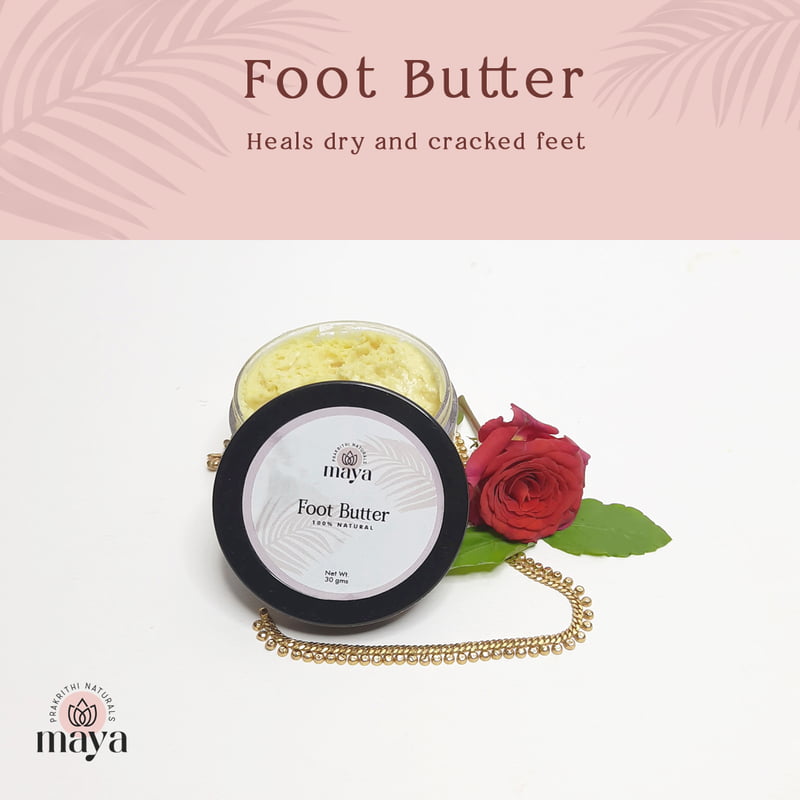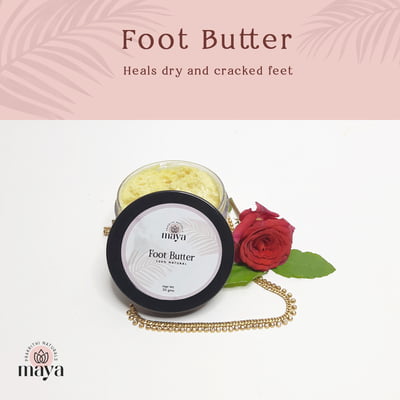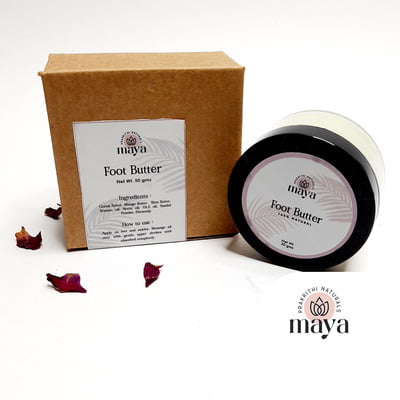 Foot Butter
Non-returnable
Foot Butter by Maya is made with ingredients that nourish and hydrate the feet.
Shea butter is a natural healer and has anti-inflammatory properties. Cocoa butter and
Mango butter;
nourishes and hydrates and keeps your feet smooth and soft. We added in Dineshavalyadi Kuzhampu which has neem oil as the main ingredient and is known for its cure-all properties when it comes to skincare. This Foot butter is thick, buttery and divine for dry skin, cracked heels and feet that just need a little bit of extra care.
T
his foot butter is highly concentrated and so a little goes a long way.
DO NOT USE ON THE FACE
because of the presence of neem oil in this product.



Benefits :
Heals cracks of your feet, makes them soft and healthy.
nourishes your skin and prevent drying.
Directions for use:

Use a foot scrub to exfoliate the dead skin on the feet.
Apply Foot Butter on feet and ankles. Massage all over with gentle upper strokes until absorbed completely.
For external use only. If the butter melts, place in fridge for a few minutes before applying.
Combination Product: Foot Scrub
Prices inclusive of all taxes
Heals cracks of your feet and makes them soft and healthy.
Nourishes your skin and prevents drying.
Ingredients :

Cocoa Butter, Mango Butter, Shea Butter, Sesame oil, DineshaValyadi Kuzhampu, Almond oil, Vit.E oil, Sandal Powder, Phenonip
Disclaimer :
Foot Butter by Maya does not have parabens, sulphate and harsh chemicals. All ingredients used in this product are natural and plant based. Product 100% Handmade.
Best before 6 months from the date of manufacture.