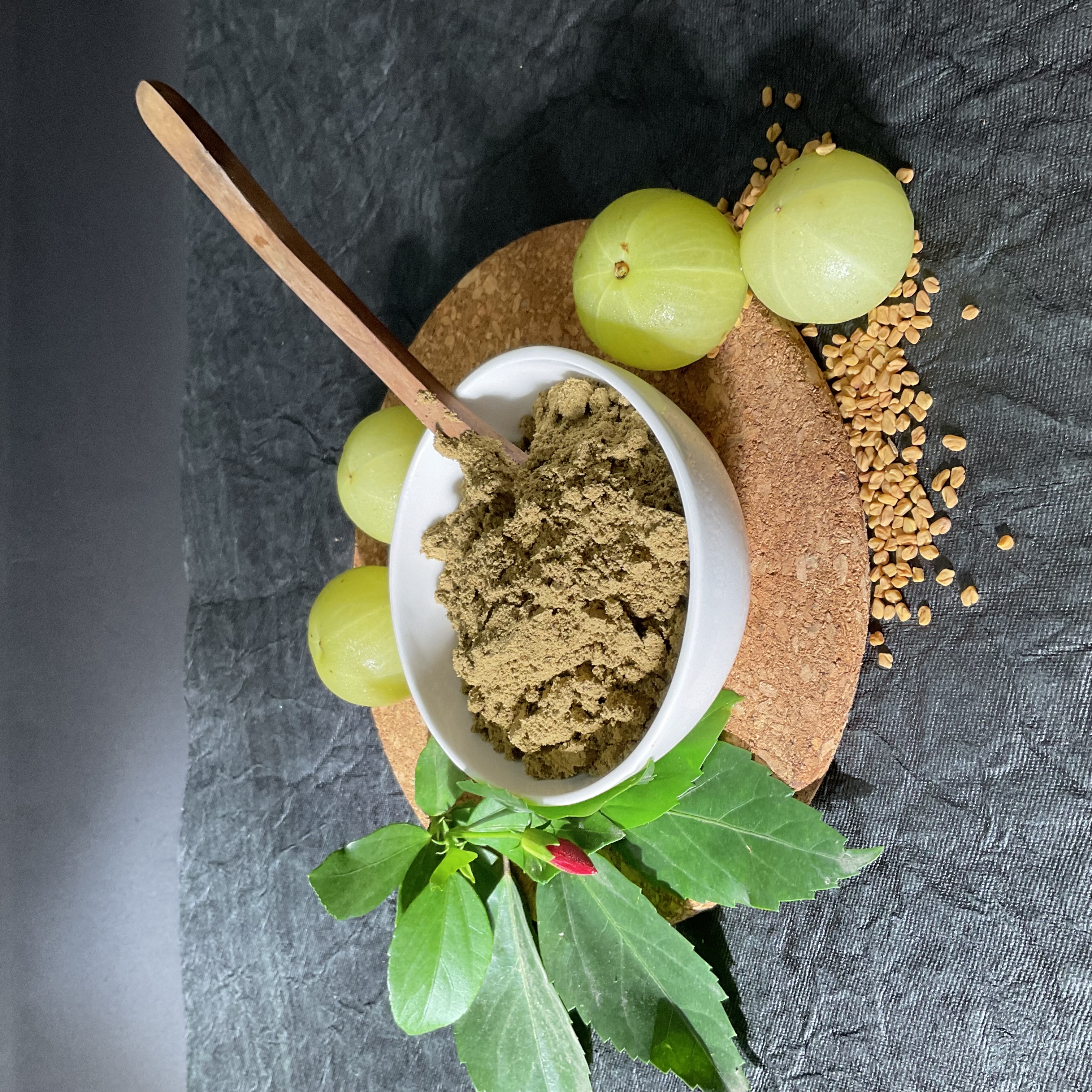 Herbal Hair Pack
Non-returnable
Herbal Hair Pack by Maya, is beneficial for dry, damaged and frizzy hair. This deep conditioning hair pack is made with herbs like shikakai, methi, hibiscus, jatamansi and vasambu. The herbs are carefully shade dried and powdered. These powders are then mixed with nourishing almond oil and castor oil.
shikakai is known for nourishing hair follicles and imparting shine and smoothness.
Methi is rich in iron and protein which are essential nutrients for hair. Methi reduces inflammation of the hair follicles and so reduces hair fall.
Hibiscus works as conditioning agent to control frizz, dryness and breakage. It also adds volume and thickness to the hair.
Jatamansi helps to control hair fall and promotes hair growth.
Vasambu is anti microbial. It is very beneficial in treating head lice and dandruff.
Curd provides deep nourishment to the hair follicles and prevents itchy scalp.

Regular use of our Herbal Hair Pack prevents hair loss, dandruff, aids in strengthening the roots, gives volumes to the hair and improves scalp health

Benefits:
Very effective in treatment of dandruff, itchy scalp and hair fall.
Promotes healthy, shiny and lustrous hair.
Deeply conditions and Strengthens weak and brittle hair
Maintains scalp health by keeping it moisturized
Directions for use: take required amount of Herbal Hair Pack in a bowl, add water to make it into a smooth paste. Those who can, may add one full egg to make a paste. Part hair into small sections and apply the pack to the scalp and hair. Leave it on for 30 mins and wash with a mild shampoo and Hair conditioner by Maya.
Note: Can be used by children, women and men of all ages. Suitable for all hair types.
Prices inclusive of all taxes.
Net Wt: 100gms

Ingredients: shikakai, methi, hibiscus, jatamansi, vasambu, curd, almond oil and castor oil.
Disclaimer: Herbal Hair Pack by Maya does not contain surfactants and harsh chemicals. All ingredients used are natural and plant based. Product 100% Natural & Handmade.
Best before 6 months from the date of manufacture.