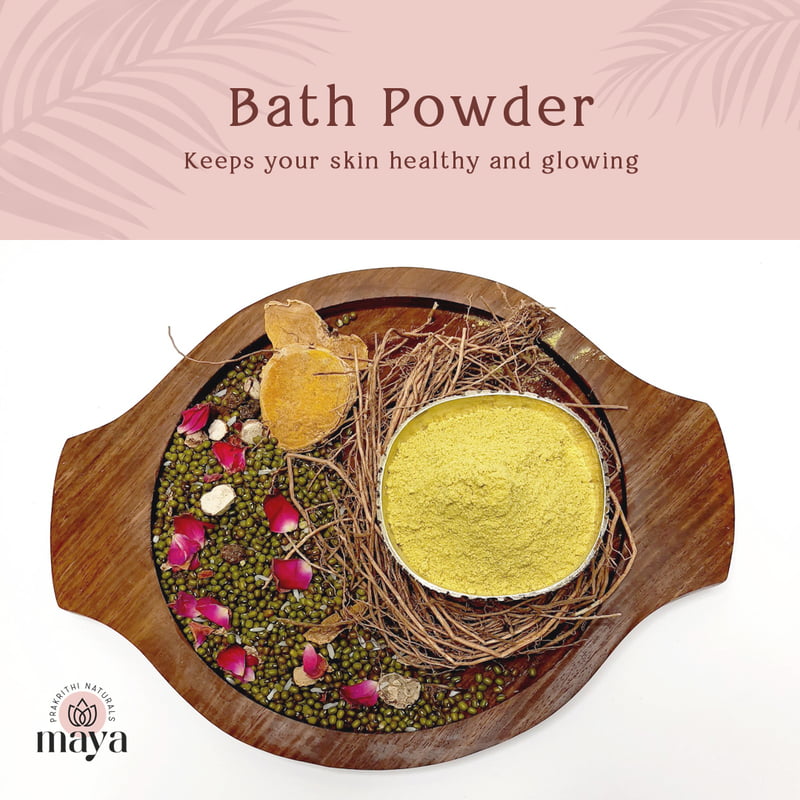 Bath powder
Non-returnable
Bath powder by Maya is an excellent cleanser. T
he properties of the herbs like Bavancha, Nagarmotha, Kasturi manjal; h
elps reduce itching, g
ives freshness to the body, removes tan, Keeps your skin healthy and glowing.
Note:
Suitable for children, women and men.
Bath powder can be used daily.
Gives a blemish-free, naturally glowing
skin
.
Reduces acne and its scars effectively.
Directions for use:

Massage your face and body with
Massage Oil
by Maya.
Take required amount of bath powder, add milk / water and make a paste. Apply this paste all over the face and body. Gently rub in circular motion and wash off with
lukewarm
water. D
o not
use soap after washing with bath powder.
Disclaimer:
Bath powder by Maya is free from
surfactants
, soap and harsh chemicals. All ingredients used are natural and plant based. Product 100% Natural & handmade.
Prices inclusive of all taxes
Bavancha seeds have great medicinal value. They help in brightening theskin by reducing pigmentation. Skin conditions like dermatitis and psoriasis can be calmed with the application of nagarmotha. Gandha karchuralu (ginger lily) is used in face and skin care for treating acne and pigmentation. Kasturi manjal, has antibacterial properties and is effective remedy for acne.
Ingredients: Green moong dal, Vetiver, Bavanchalu, Kasturi Manjal(wild Turmeric), Gandha Karchuralu (Poolankilangu), Sandal powder, Rose petals, Nagarmotha (Thunga gaddalu), Neem

Best before 6 months from the date of manufacture.