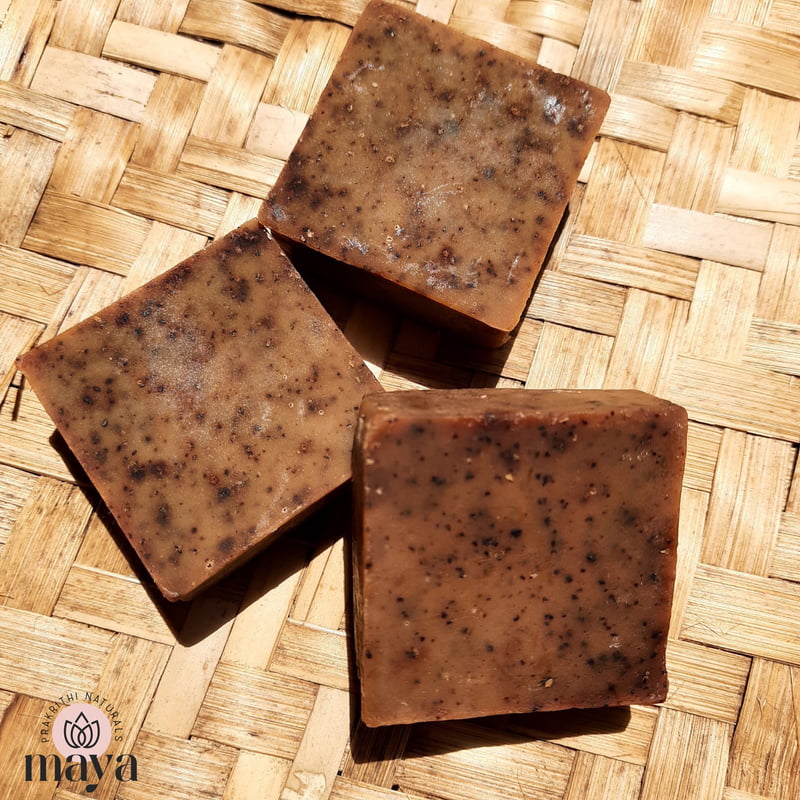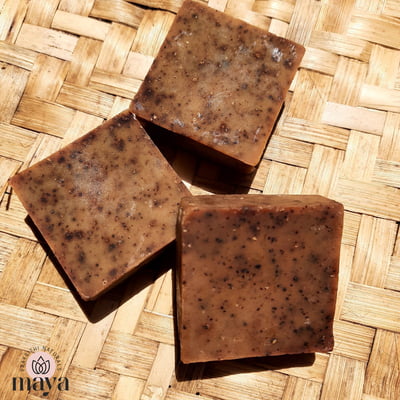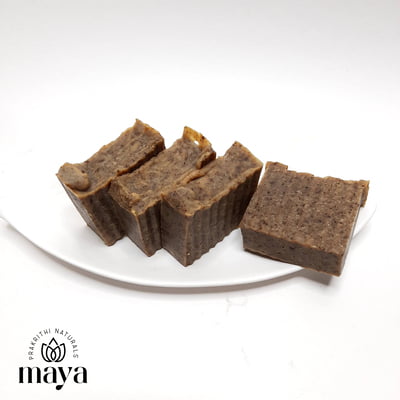 Coffee Scrub Soap
Non-returnable
We proudly present our handmade coffee scrub soap infused with the aromatic essence of fresh brewed coffee. Immerse yourself in the delightful experience of our unique soap.
Coffee soap offers a range of benefits for the skin, thanks to the natural properties of coffee.
Exfoliation:

Coffee soap contains coffee grounds or fine coffee particles, which act as a gentle exfoliating agent. These particles help remove dead skin cells, dirt, and impurities from the skin, leaving it smooth, soft, and revitalized.
Improved Circulation:

The massaging action of coffee grounds during application can promote improved blood circulation in the skin. This increased blood flow helps deliver essential nutrients to the skin cells and can contribute to a healthy, glowing complexion.
Antioxidant Protection:

Coffee is rich in antioxidants. These antioxidants can assist in reducing the signs of aging, such as fine lines, wrinkles, and dullness.
Brightening and Even Skin Tone:

Coffee soap can help brighten the skin and even out the complexion. The exfoliating properties of coffee aid in the removal of dead skin cells, which can help reduce the appearance of dark spots, hyperpigmentation, and uneven skin tone.
Temporary Firming Effect:

The caffeine present in coffee has a temporary tightening effect on the skin. It can help reduce the appearance of puffiness and promote a firmer, more toned look, especially in areas like the face and under the eyes.
Natural Deodorizing:

Coffee has natural deodorizing properties that can help eliminate unpleasant
odours
from the skin.
Energizing Aroma:

Coffee soap offers an invigorating and energizing aroma that can uplift your senses and provide a refreshing bathing experience.
Suitable for All Skin Types:

Our coffee scrub soap is thoughtfully formulated to cater to all skin types. Whether you have dry, oily, or sensitive skin, our soap offers a gentle yet effective cleansing experience without causing irritation or dryness.
Price inclusive of all taxes.
Each batch of our soap is lovingly handcrafted with utmost care and precision. We use the cold process method, which allows the natural benefits of our chosen ingredients to be preserved. This traditional technique involves a curing process that takes approximately 6 weeks, allowing our soap to develop its unique qualities before it is ready for sale.
Our coffee soap is meticulously handcrafted using a blend of high-quality ingredients, each selected for its unique skincare benefits. Here are the key ingredients that make our coffee soap exceptional:
Olive Oil: Known for its moisturizing and nourishing properties, olive oil helps keep the skin hydrated and supple. It contains antioxidants that can protect the skin from free radicals and promote a youthful appearance.

Shea Butter: Shea butter is a rich and luxurious ingredient that provides intense hydration to the skin. It is packed with vitamins and fatty acids that help soothe, moisturize, and improve the overall texture of the skin.

Kokum Butter: Extracted from the Garcinia indica fruit, kokum butter is deeply moisturizing and helps rejuvenate the skin. It aids in maintaining skin elasticity and suppleness, promoting a youthful and healthy complexion.

Castor Oil: Castor oil acts as a cleansing agent in our soap formulation. It has properties that help attract and dissolve impurities, leaving the skin feeling clean and refreshed.

Coconut Oil: With its antimicrobial properties, coconut oil helps keep the skin free from harmful bacteria and other microorganisms. It also contributes to the rich lather and creamy texture of our soap.

Sodium Hydroxide (Lye): Lye is used in the soap-making process to convert oils into soap through a chemical reaction called saponification. When properly formulated, lye is completely neutralized, resulting in a safe and gentle soap.

Distilled Water: Distilled water is used in the soap-making process to dissolve the lye and create the soap base. It ensures the soap is pure and free from impurities.

Fresh Brewed Coffee: Our coffee soap contains the essence of freshly brewed coffee, infusing it with its invigorating aroma and potential antioxidant benefits.

Coffee Grounds: Coffee grounds act as a natural exfoliant in our soap, gently removing dead skin cells and impurities to reveal smoother and brighter-looking skin.
Please note that the soap-making process involves using sodium hydroxide (lye), which undergoes a chemical reaction during soap production and is not present in the final product. Our soap is carefully formulated to ensure a safe and gentle cleansing experience for your skin.