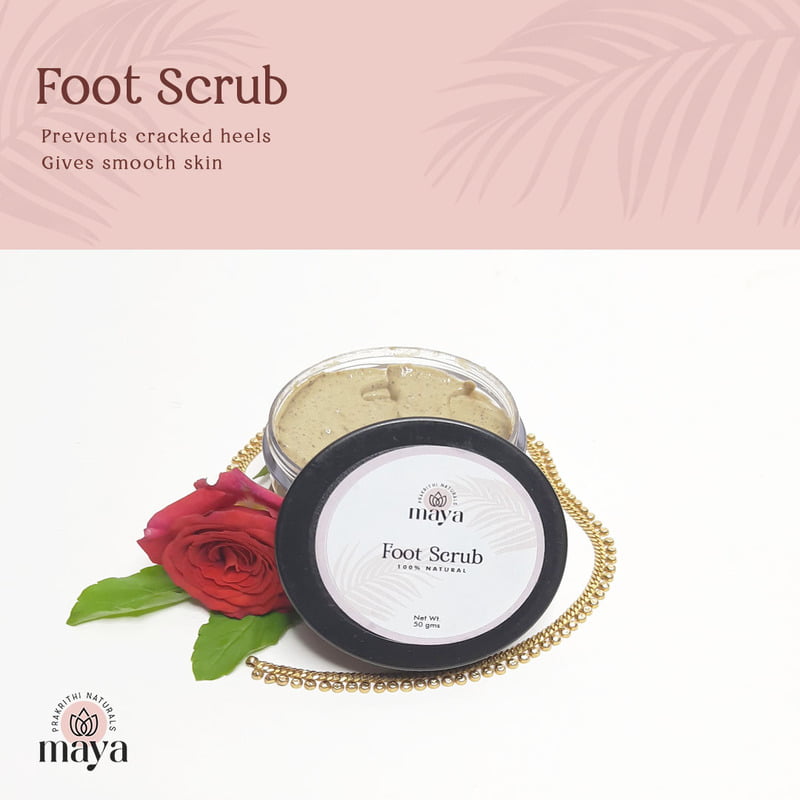 Foot Scrub
Non-returnable
Introducing Foot Scrub by Maya: Your Solution for Active Feet

Dry, cracked heels can be a bothersome issue that causes discomfort and pain, and if left untreated, it may even lead to infections. That's why we've developed Foot Scrub by Maya, a skincare product designed to provide expert care for your active feet.

Our foot scrub targets dry skin on the feet, effectively removing calluses and smoothing rough patches, leaving your skin bright and soft. With regular use, you can say goodbye to cracked heels and hello to healthier, happier feet.

Key Features and Benefits:

Exfoliates Dry Skin: The foot scrub's gentle yet effective formula exfoliates dry skin, removing dead cells and revealing the fresh, rejuvenated skin beneath.

Polishes Rough and Dry Skin: Say goodbye to rough patches and hello to silky-smooth feet. Our foot scrub works to polish rough areas, leaving your skin feeling soft and revitalized.

Directions for Use:

Take the required amount of foot scrub and apply it to wet feet.

Gently rub the scrub in a circular motion, focusing on areas with dry or rough skin.

Rinse thoroughly with water.

Pat your feet dry gently with a towel.

To maximize the benefits of Foot Scrub, we recommend pairing it with our moisturizing foot butter. This powerful duo will keep your feet soft, smooth, and crack-free.

Foot Butter by Maya provides intense hydration, locking in moisture and preventing further dryness. Its nourishing formula soothes and rejuvenates tired feet, leaving them feeling pampered and revitalized.

prices inclusive of all taxes,
Ingredients:
Our Foot Scrub by Maya is carefully crafted using a blend of natural and plant-based ingredients to provide the best care for your feet. Here are the key ingredients:
Aloe Vera Juice: Known for its soothing and moisturizing properties, aloe vera juice helps to hydrate and nourish the skin, promoting a healthy and rejuvenated appearance.

Vegetable Glycerine: This natural humectant helps to attract and retain moisture, keeping your feet hydrated and preventing dryness.

Cocoa Butter: Rich in antioxidants and fatty acids, cocoa butter deeply moisturizes the skin, improving its elasticity and softness.

Coconut Oil: Packed with nourishing properties, coconut oil helps to moisturize and protect the skin, leaving it smooth and supple.

Walnut Scrub: Walnut scrub particles gently exfoliate the skin, removing dead cells and promoting a smoother texture.

Pumice Powder: Pumice powder aids in the removal of calluses and rough skin, revealing softer and healthier-looking feet.

Calamine Powder: Calamine powder helps to soothe irritated skin, providing relief and comfort.

Turmeric Powder: Turmeric powder has anti-inflammatory properties that help calm and soothe the skin, reducing redness and irritation.

Kaolin Clay: Known for its gentle exfoliating properties, kaolin clay helps to purify the skin and absorb excess oil.

Lavender Essential Oil: Lavender essential oil offers a relaxing and calming aroma while providing additional benefits for the skin, such as soothing and balancing properties.

Phenonip: Phenonip is a preservative that helps maintain the product's freshness and prevents the growth of harmful bacteria.
Disclaimer:
We take pride in ensuring that our Foot Scrub by Maya is free from parabens, sulfates, and harsh chemicals. We believe in using natural and plant-based ingredients to provide a safe and effective skincare experience.
Product Information:
Our foot scrub is 100% handmade, ensuring attention to detail and quality in every batch. We recommend using the product within six months from the date of manufacturing to ensure optimal freshness and efficacy.