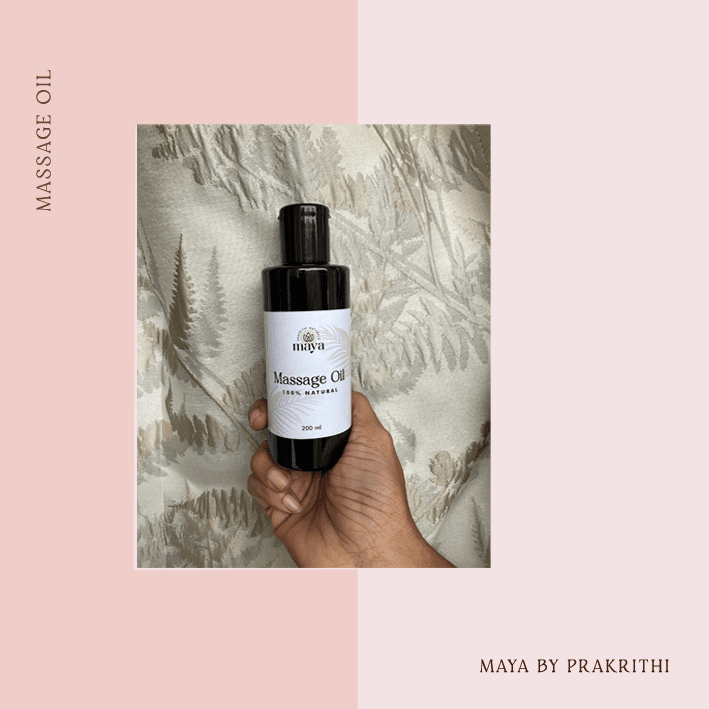 Massage Oil
Non-returnable
A full-body oil massage on a daily basis is nourishing; relieves fatigue and provides perfect sleep, enhances the complexion and the luster of the skin and nourishes all parts of the body. Coconut oil is rich in Vitamin E which is considered skin's best friend also loaded with antioxidants that prevent the skin from wrinkling and sagging. Sesame oil helps reduce skin damage caused by UV exposure, it treats tanning, fine lines, sunspots and all the marks that are caused by sun damage. diluted Neem oil is also rich in Vitamin E which helps treat acne, fungal infections, warts, or moles.
Directions for use:
Pour required amount of oil in the palm, apply all over the body and massage for
10 mins
, and wash it with Bath Powder by Maya. Can be used daily. recommended to use
at least
once a week.
Combination Product:

Bath Powder
Increases circulation and aids joint health
Eliminates body impurities
Calms nerves and promotes deeper, better sleep
Softens and smoothes the skin which reduces the effects of aging
Massage oil, 100% natural & handmade.
Ingredients:
Coconut oil, Sesame oil, Ayyapala thailam, Dhanvantri thailam, Neem oil