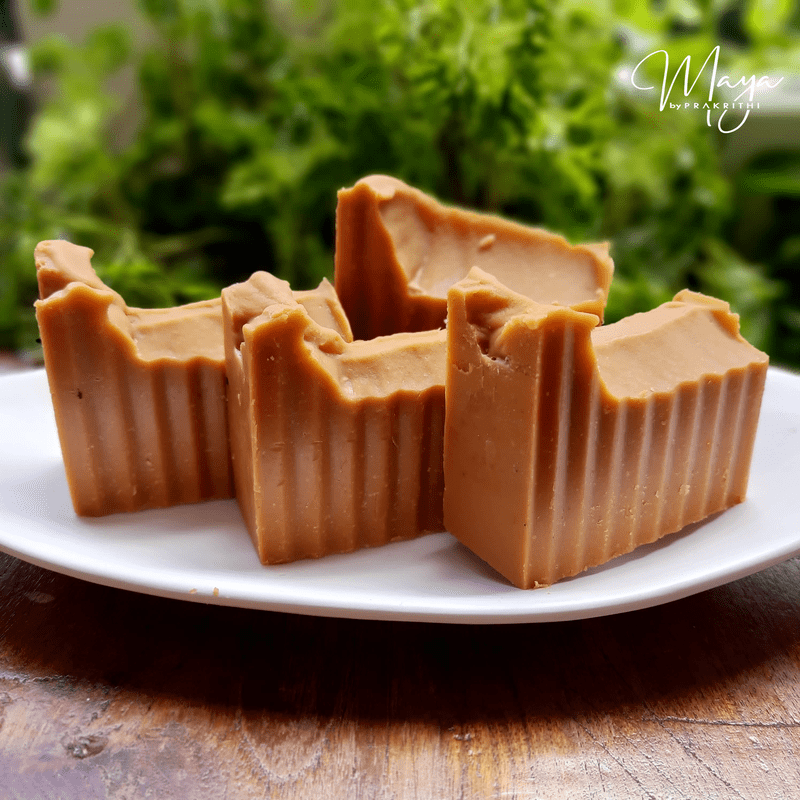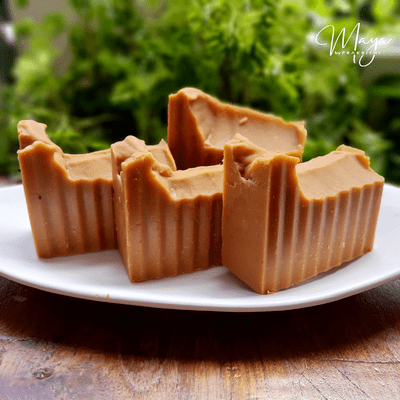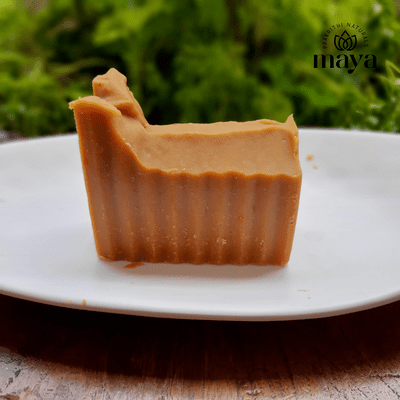 Papaya Soap
Non-returnable
Indulge in the ultimate pampering experience with our handmade cold processed papaya soap. Let its luxurious blend of papaya pulp, olive oil, shea butter, kokum butter, coconut oil, and castor oil revitalize and rejuvenate your skin, leaving it radiant and velvety-smooth. Papaya soap is known for its potential benefits for the skin due to its rich content of vitamin C and vitamin A. Vitamin C is an antioxidant that can help reduce irregular pigmentation and stimulate collagen production, which can contribute to healthier and more youthful-looking skin. Vitamin A is another important nutrient for the skin, known for its potential to promote cell turnover and improve skin texture.

One of the advantages of papaya soap is that it is suitable for all skin types.
Every batch of papaya soap is handcrafted with care using the cold process method. This method involves mixing papaya pulp, oils and fats with an alkali (such as sodium hydroxide) to create soap through a chemical reaction called saponification. The curing process for this type of soap usually takes around 6 weeks, during which the soap solidifies and becomes milder and gentler on the skin.

Since the soap is handmade, there may be natural blemishes or distinctions that are not product flaws. Such variations are common in the manufacturing of handmade products, and you might notice slight changes in colour and size of the soap bars. These differences are natural and do not affect the quality or efficacy of the soap.
Price inclusive of all taxes.

Ingredients:
Papaya Pulp: Our soap is enriched with the goodness of fresh papaya pulp, which is known for its remarkable skin benefits. Papaya contains natural enzymes that help exfoliate the skin gently, leaving it feeling soft and supple. It also contains vitamins A and C, antioxidants that can promote a more even skin tone and boost collagen production for a youthful glow.
Olive Oil: We incorporate high-quality olive oil into our soap formulation for its moisturizing and nourishing properties. Olive oil is rich in antioxidants and essential fatty acids, which help maintain the skin's natural moisture barrier, keeping it hydrated and protected.
Shea Butter: Another star ingredient in our papaya soap is shea butter, renowned for its exceptional moisturizing abilities. Shea butter is packed with vitamins A and E, as well as fatty acids, providing intense hydration and promoting skin elasticity. It helps soothe and nourish dry, irritated, or sensitive skin, leaving it feeling smooth and supple.
Kokum Butter: To further enhance the luxuriousness of our soap, we add kokum butter. Derived from the Garcinia indica fruit, kokum butter is known for its emollient properties. It helps moisturize and regenerate the skin, making it an excellent choice for promoting skin health.
Coconut Oil: Our soap formulation includes coconut oil, which has been used for centuries in skincare for its moisturizing and antimicrobial properties. It helps keep the skin hydrated and can assist in maintaining a healthy skin barrier. Coconut oil also lends a rich lather and creamy texture to our soap, enhancing your bathing experience.
Castor Oil: Lastly, we incorporate castor oil into our soap to provide a silky-smooth texture and contribute to its cleansing properties. Castor oil is known for its ability to attract and dissolve dirt and impurities, leaving your skin feeling fresh and clean.
Sodium hydroxide: Also known as lye, it is used in the soap-making process to saponify the oils and create soap.
Sodium lactate: A natural humectant that helps to moisturize and increase the hardness of the soap.
Please note that sodium hydroxide is used in the soap-making process but is fully reacted and no longer present in the final product. The soap is carefully formulated to ensure that it is safe for use on the skin.