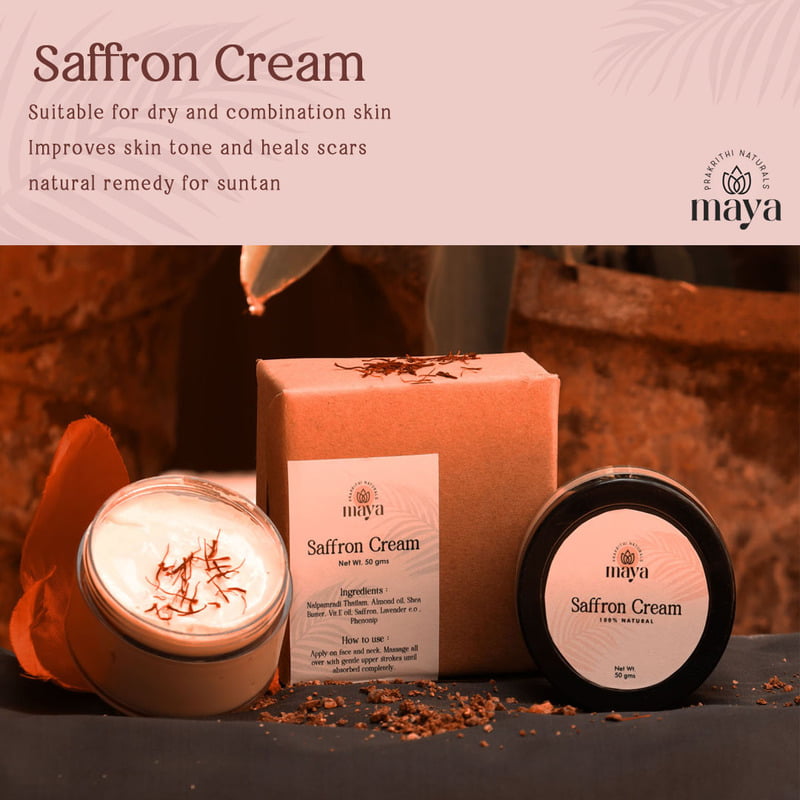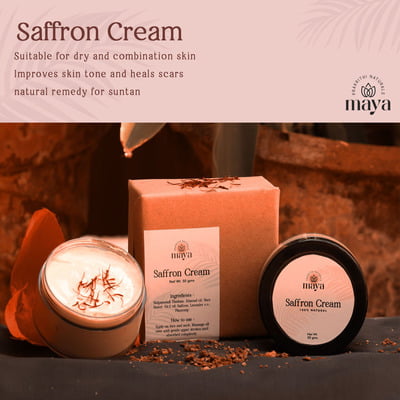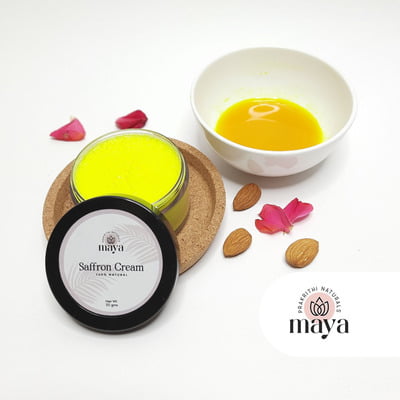 Saffron Night Cream
Non-returnable
Introducing our Saffron Night Cream, a potent blend of Ayurvedic oil Nalpamaradi Thailam, Almond oil, and Saffron. This unique formula combines traditional Ayurvedic wisdom with the power of natural ingredients to deliver exceptional skincare benefits.
In Ayurveda, Nalpamaradi Thailam is renowned for its ability to treat minor skin conditions such as dryness, itchiness, and dermatitis (eczema). It works wonders in reducing the appearance of dark circles and pigmentation marks, promoting a more even skin tone.
Saffron, is a key ingredient in our night cream. It possesses remarkable skin-lightening properties, helping to brighten uneven skin tone and impart a natural radiance. Additionally, saffron aids in repairing wrinkles, fine lines, and other signs of aging, revealing a more youthful complexion.
Designed specifically for dry and combination skin, our Saffron Night Cream serves as a perfect leave-in treatment for overnight rejuvenation. Its nourishing and moisturizing properties deeply hydrate the skin, providing long-lasting hydration and promoting a naturally radiant glow.
Benefits:
Treats pigmentation, dark spots, and uneven skin tone

Suitable for dry and combination skin

Diminishes the appearance of wrinkles and fine lines
Directions for Use:
Gently apply the Saffron Night Cream on your face and neck before going to bed. Massage it in with gentle upward strokes until fully absorbed. Allow the cream to work its magic overnight, revealing a revitalized complexion in the morning.
Experience the remarkable benefits of our Saffron Night Cream by Maya. Treat your skin to the goodness of Ayurvedic ingredients and unlock the secret to naturally radiant and rejuvenated skin.
Prices are inclusive of all taxes
Distilled Water: Provides a pure and clean base for the formulation, ensuring optimal hydration and moisture retention.

Nalpamaradi Thailam: Derived from Ayurvedic traditions, this oil is renowned for its ability to treat various skin conditions, including dryness, itchiness, and dermatitis (eczema).

Almond Oil: Rich in nourishing properties, almond oil deeply moisturizes the skin, leaving it soft and supple. It helps to soothe and alleviate dryness and irritation.

Shea Butter: A natural emollient, shea butter provides intense hydration and locks in moisture, promoting a smooth and radiant complexion.

Niacinamide: Also known as vitamin B3, niacinamide helps to improve skin elasticity, minimize pores, and enhance the overall texture of the skin. It supports a more even skin tone and reduces the appearance of fine lines and wrinkles.

Vitamin E Oil: A powerful antioxidant, vitamin E oil helps to protect the skin from free radicals, preventing premature aging and promoting a youthful appearance.

Saffron: Saffron is a prized ingredient known for its brightening and lightening properties. It helps to even out skin tone, reduce pigmentation, and impart a natural radiance.

Lavender Essential Oil: With its soothing and calming properties, lavender essential oil promotes relaxation and provides a pleasant aroma for a relaxing night time skincare routine.
Disclaimer:
Our Saffron Night Cream does not contain silicones, parabens, sulphates or harsh chemicals. We prioritize the use of natural and plant-based ingredients to ensure a gentle and effective product for your skincare needs.