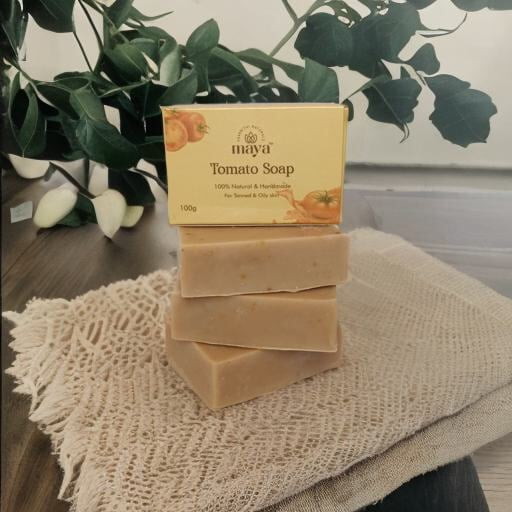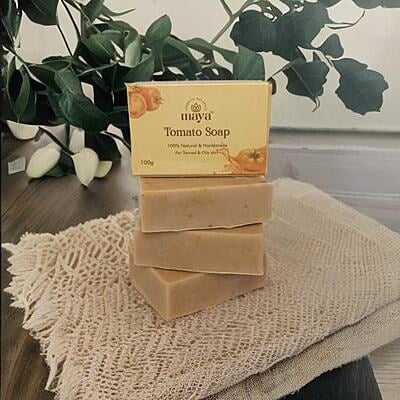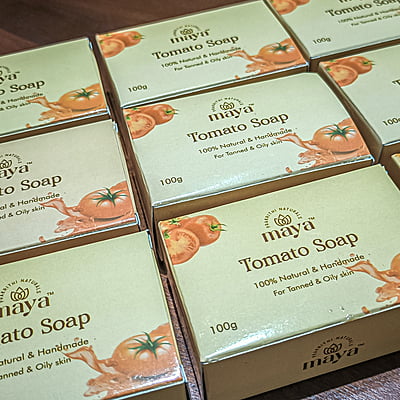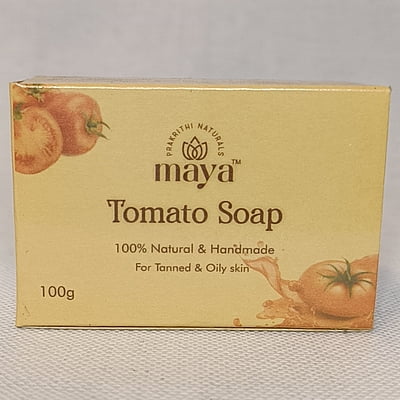 Tomato Pink Clay Soap
Non-returnable
Experience the extraordinary benefits of our Tomato Soap, enriched with tomato juice, olive oil, shea butter, coconut oil, castor oil, kokum butter, sodium hydroxide, sodium lactate, and pink clay Maya's Tomato Soap, a skincare gem crafted with the goodness of 100% tomato juice and pink clay. Our Tomato and Pink Clay soap is the ultimate detan soap, specially formulated to provide gentle exfoliation and natural de-tanning benefits.

Natural De-tanning: Tomatoes are renowned for their natural skin-brightening properties. Packed with antioxidants and vitamins, tomato juice helps to reduce the appearance of tan and restore your skin's natural radiance. The combination of tomato juice and pink clay works harmoniously to gradually fade tan lines and promote an even skin tone.

Gentle Exfoliation: Our Tomato and Pink Clay soap acts as a gentle exfoliator, effectively removing dead skin cells and impurities from the surface of your skin. Regular use of this soap can help unclog pores, minimize the occurrence of blackheads and whiteheads, and leave your skin feeling refreshed and rejuvenated.

Sebum Regulation: For individuals with oily skin, this soap is a game-changer. The tomato juice and pink clay combination helps regulate the excess production of sebum, preventing greasiness and shine. It promotes a balanced complexion, making it an ideal choice for those dealing with oily or combination skin types.

Suitable for All Skin Types: While our Tomato and Pink Clay soap is particularly beneficial for oily skin, it is also suitable for all skin types.
Each bar of Tomato Soap is meticulously handcrafted to perfection, ensuring that you receive a high-quality product with every purchase. Please note that natural variations may occur due to the handmade process, adding to the uniqueness of each bar.
Net wt: 100gms
Prices inclusive of taxes
Tomato Juice: Sourced from ripe tomatoes, the natural juice is packed with antioxidants and vitamins that help brighten the skin, reduce tanning, and promote a healthier complexion.

Olive Oil: Known for its moisturizing properties, olive oil deeply hydrates and nourishes the skin. It helps to maintain skin elasticity and leaves it feeling smooth and supple.

Shea Butter: Renowned for its emollient properties, shea butter provides intense hydration and helps protect the skin's natural moisture barrier. It assists in improving skin texture and promotes a youthful appearance.

Coconut Oil: A lightweight and easily absorbed oil, coconut oil conditions and softens the skin. It provides essential moisture and aids in maintaining skin health.

Castor Oil: With its antimicrobial and anti-inflammatory properties, castor oil helps cleanse the skin while soothing irritation. It assists in reducing excess oiliness and maintaining a balanced complexion.

Kokum Butter: Kokum butter is a natural emollient that helps restore and maintain skin elasticity. It nourishes and moisturizes the skin, leaving it feeling supple and rejuvenated.

Sodium Hydroxide: Also known as lye, sodium hydroxide is used in the soap-making process to create a solid bar of soap. It undergoes a chemical reaction known as saponification, transforming the oils and butters into soap.

Sodium Lactate: Derived from natural sources, sodium lactate acts as a humectant, attracting moisture to the skin and helping it retain hydration.

Pink Clay: Pink clay is a gentle exfoliating agent that helps remove impurities and dead skin cells. It promotes a smoother, brighter complexion and contributes to the overall detoxifying effect of the soap.
Maya's handmade soaps are free from parabens, SLS, propylene glycol and any kind of surfactants or hardening agents.