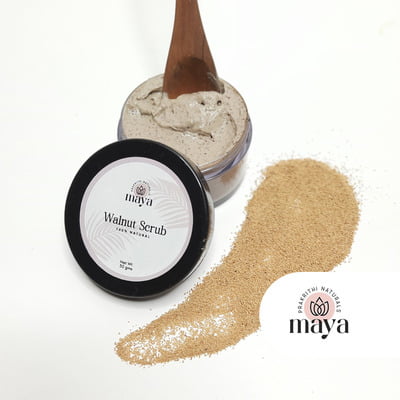 Walnut Scrub
Non-returnable
Our walnut scru
b
is creamy and gentle on the skin. It helps in removing dirt and excess oil resulting in a smooth and younger-looking skin.
Exfoliating twice a week is advisable.
Benefits :

Removes blackheads and exfoliates the skin.



Directions for use :

Lightly wet your face, take the required amount of walnut scrub and apply on face and neck. Gently rub with upper strokes for 3-4mins, wash with water, pat dry with a soft towel, follow up with our Face Mask and Saffron Cream. B
e careful not to scrub too hard else you could end up with raw, open, and painful skin.
Note:

Suitable for all skin types
Cleansers
Face Mask
Saffron Cream
Body Butter
Prices inclusive of all taxes
Creamy and gentle on the skin
Exfoliates and removes dead cells and blackheads
Gives smooth and younger-looking skin
Ingredients
: Aloe Vera juice, Vegetable glycerine, Coconut oil, Vit.E oil, Walnut scrub,
Pumice
powder, Calamine powder, Kaolin clay, Lavender e.o, Phenonip
Disclaimer :
Walnut Scrub by Maya does not have parabens, sulphates and harsh chemicals. Ingredients used in this product are natural and plant based. Product 100% Handmade.
Best before 6 months from the date of manufacturing.