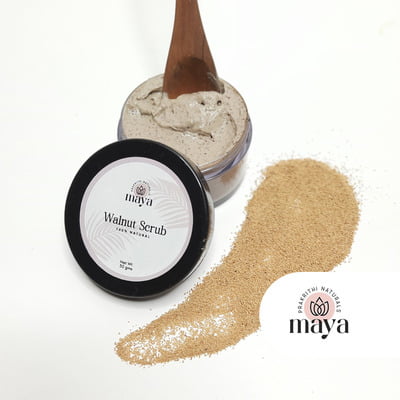 Walnut Scrub
Non-returnable
Indulge in the creamy and gentle exfoliation of our Walnut Scrub. This scrub effectively removes dirt and excess oil, revealing a smoother and more youthful complexion. We recommend exfoliating with this scrub twice a week for optimal results.
Benefits:
Removes Blackheads: The Walnut Scrub targets blackheads and helps to eliminate them, leaving your skin clearer and more refined.

Exfoliates the Skin: Gentle exfoliation is key to removing dead skin cells and promoting cell renewal, resulting in a brighter and fresher complexion.
Directions for Use:
Lightly wet your face before applying the Walnut Scrub.

Take the required amount of scrub and apply it to your face and neck.

Gently massage the scrub into your skin using upward strokes for approximately 3-4 minutes.

Rinse off with water and pat your skin dry with a soft towel.

For best results, follow up with our Face Mask and Saffron Cream to further nourish and enhance your skin.
Note: Walnut Scrub by Maya is suitable for all skin types.
Combination Products:
Enhance your skincare routine with our wide range of products, like cleansers, face masks, saffron cream, and body butter. Create a complete skincare regimen for a pampering and revitalizing experience.
Prices inclusive of all taxes.
At Maya, we take great pride in the thoughtfully curated blend of ingredients found in our Walnut Scrub. Each component serves a specific purpose to ensure an effective and natural skincare experience.
Ingredients:
Aloe Vera Juice:

Known for its soothing and hydrating properties, aloe vera juice helps to calm and moisturize the skin, leaving it feeling refreshed.

Vegetable Glycerine:

This natural humectant attracts and retains moisture, keeping the skin hydrated and supple.

Coconut Oil:

Rich in nourishing fatty acids, coconut oil helps to moisturize and soften the skin, promoting a smoother and healthier complexion.

Vitamin E Oil:

A powerful antioxidant, vitamin E oil helps to protect the skin from free radicals and supports its natural healing process.

Walnut Scrub:

Our walnut scrub contains finely ground walnut particles that gently exfoliate the skin, removing dead skin cells and impurities.

Pumice Powder:

Pumice powder provides additional exfoliation to reveal smoother and brighter skin.

Calamine Powder:

Known for its soothing properties, calamine powder helps to calm and alleviate skin irritations.

Kaolin Clay:

Kaolin clay helps to absorb excess oil and impurities, leaving the skin feeling refreshed and balanced.

Lavender Essential Oil:

Lavender essential oil provides a pleasant scent while promoting relaxation and soothing the skin.

Phenonip:

Phenonip is a preservative that helps to maintain the quality and shelf life of the product.
Disclaimer: Our Walnut Scrub by Maya is free from parabens, sulfates, and harsh chemicals. We believe in using only natural and plant-based ingredients to ensure a safe and gentle product for your skin. Our Walnut Scrub is 100% handmade, adding a personal touch to each batch.
Please note that the product has a shelf life of 6 months from the date of manufacturing, ensuring optimal freshness and efficacy. ingredients in our Walnut Scrub by Maya.